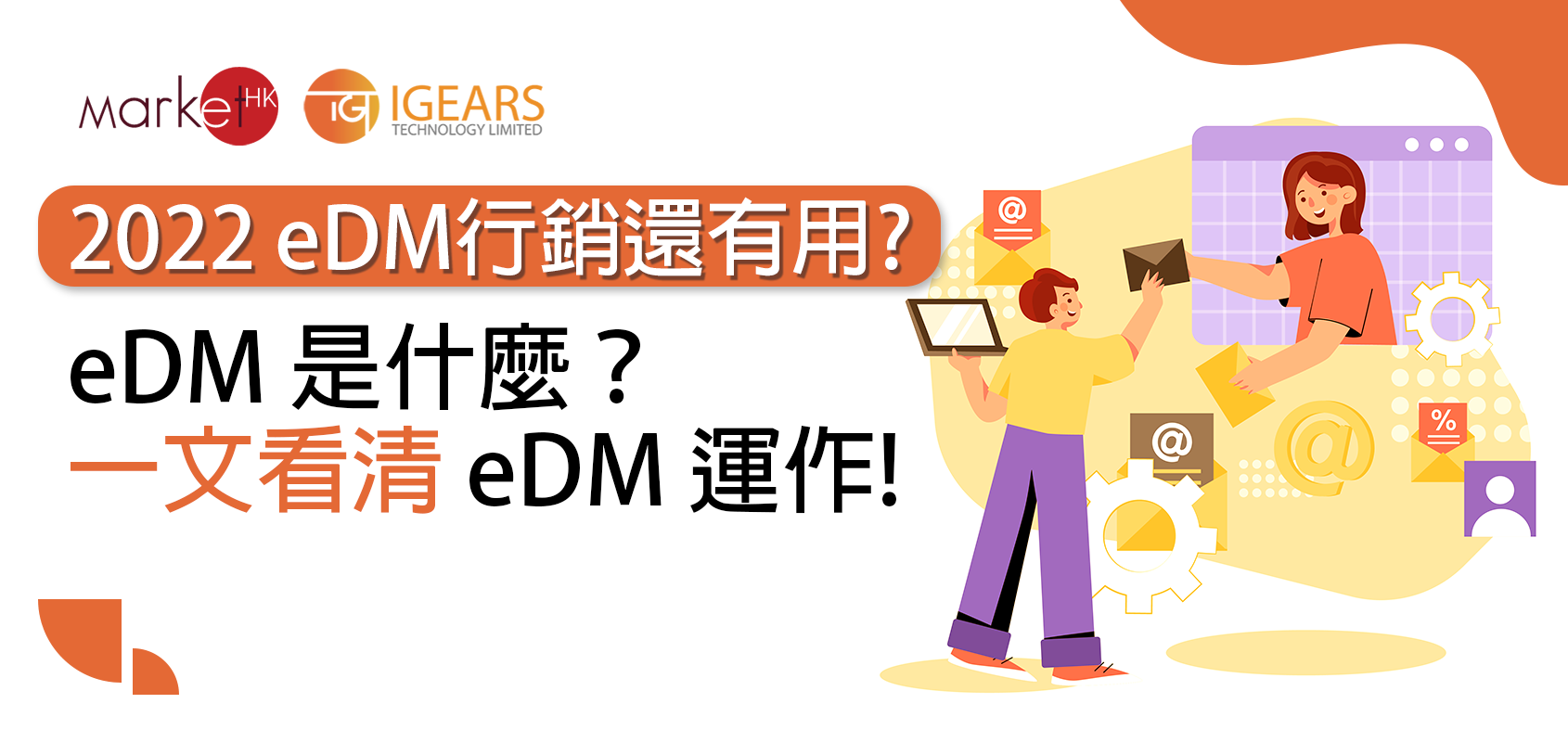 08 Jun

2022, Is eDM Marketing Still Useful? What is eDM? See how eDM works in one article!
Is eDM email marketing still popular?
In 2022, is eDM email marketing obsolete? Wrong, with the advent of short videos, large-scale advertising, and social media, eDM email marketing is still a powerful marketing tool. Before the rise of various publicity methods, e-mail eDM was an important communication tool for business transactions and maintaining customer relationships, and its role and power should not be ignored. So, how is eDM email marketing different from now? Of course, eDM email marketing can adapt to the development of the times and continue to play a huge marketing advantage. As long as you know how to use eDM to manage customers, increase brand visibility and website traffic, release new product information, and build a solid customer list is of course easy!
What is eDM mailmarketing?
fht
Regarding eDM mail marketing, eDM marketing in English refers to Electronic Direct Mail, or Email Marketing, just like the text means, mail or email marketing. Marketing staff/marketing promoters can use email as a Marketing marketing channel or marketing tool to convey the content of brand marketing through eDM emails, and finally complete the conversion of orders, or achieve other marketing purposes.
Benefits of using eDM email marketing
Although eDM email marketing / eDM Marketing is a traditional marketing method, it is still a marketing marketing method worth investing in. The specific features are as follows:
1. Low cost and long term effectiveness
Compared with social media communication, such as FB fan group, IG page, Weibo, etc., and the cost of Google advertising investment, the cost of eDM email marketing development to obtain customer lists is also the lowest. Smart Insight has researched that: "Email has an average conversion rate of 4.29%, while social media is only 1.81%" . In addition, there are more ways to obtain membership lists, and less effort to maintain relationships with loyal customers. It can also analyze and win customers with the greatest value. Therefore, eDM email marketing is the first choice of many small and medium-sized enterprises, which is often used to maintain current customers and find new customers.
2. Easy data analysis
How to know the effectiveness of the emails sent out? Now most eDM email marketing platforms can track and provide complete data analysis reports, such as open rate, click rate, etc. The user analyzes the report based on the data, measures the effect of a marketing transmission, readjusts, optimizes the action plan, and keeps track of it. For example, which email promotion is most popular with subscribers? Which CTA is the most likely to be clicked? Or use polls, questionnaires, etc. to learn more about consumer preferences!
3. Many customization methods, easy to personalize
The eDM email template is diverse, just need to prepare pictures, insert personalized greetings in the content of the email, and insert the company website link at the end of the home page, just like starting a dialogue with customers. And most eDM platforms provide A/B Test and automated reply functions, saving the sales team's time and cultivating more effective customers!
4. Improve SEO performance
Can't think of it? When sending eDM emails to subscribers, they are actually mentally prepared to "read"! When you suggest that they land on the page to see the complete information, of course, it will increase their "stay time" and "clicks" on the page! Adding a website to eDM mail can not only increase the backlinks, increase the traffic and weight of the brand page, but also bring traffic to the page, and increase the authority of the website and the credibility of the page in the search engine!
How eDM works
eDM marketing tools are suitable for a variety of industries, such as foreign trade import and export, e-commerce, education industry, financial services, etc. The way of using it also varies according to personal purposes, and it is commonly used to develop customers and maintain customers.
Register purpose, get new user information
Share the latest brand news and promotions
Increase sales with e-commerce deals
Marketing campaign promotion
5 Steps to eDM Sending
How to start sending eDM emails? Generally speaking, you can first choose an email marketing platform in the market, such as MarketHK email marketing platform. The operation of email marketing is not difficult. Here we summarize it into 5 steps. First, do recipient management, email structure, structure email design, send emails and analyze data.
1. Recipient management: Confirm the target recipient! Is membership registration through the website subscription form? Offline registration? Mobile APP? Has the subject unsubscribed? Just make sure to send eDM legally, it will reduce the chance of spam!
2. Email structure: eDM email structure is very important! Before sending the email, carefully design the email title, the first paragraph of the text, and the following email content to improve the eDM email arrival rate, open letter rate and click rate.
3. Email design: In addition to image design, text layout, and complementary graphics and text, conversion elements such as CTA buttons should also be added, so that eDM can attract attention first and then interact!
4. Sending emails: Before the eDM emails are officially sent, you can test them first to ensure a good sending effect. Automatically set the time point for automatic mailing, A/B testing can help you find the best subject, mailing time, etc.
5. Analyze data: Before executing the next Marketing plan, keep tracking customers and let data analysis tell your next step! The eDM email provides data analysis reports, clicks, openings, age groups and other information to assist you in the classification management of the follow-up list, and continue to carry out accurate marketing.
How should eDM email marketing recipients be collected?
Provide membership subscription function on the official website
You can design a "member subscription" block on the homepage of the official website, such as an e-newsletter that provides the latest information, or use a pop-up or stamped subscription form when visitors enter or leave the website. By increasing the reach rate, it is not easy for visitors to miss subscriptions .
Social Platforms
A link to join the subscribe eDM mailing form can be placed on either Facebook or YouTube, and willing consumers or fans will subscribe.
Store support
The physical storefront can use the counter/other prominent place of the storefront to announce the useful information of eDM e-newsletter subscription, such as various offers, promotions, etc., and to announce what activities will be held.
Future eDM Marketing Trends
Compared with social media, don't underestimate the traditional way of eDM postal marketing. Because it is in HTML format, there are more elements that can be imported, so eDM keeps pace with the times! So, how to do EDM marketing?
1. Make good use of UGC content
Can't think of any content? You can try UGC (User-Generated Content), that is, your own user-generated content, including customer reviews, voting results, customer pictures, and more. Inquiry works with customers to incorporate UGC content into emails to increase customer loyalty, and even bring more of the same UGC content through eDM emails.
2. Automated email methods
How to reduce the work of repetitive email sending, improve the efficiency of work, and send accurate positioning to buyers and customers? Automated marketing can solve this problem! Whether it is developing potential customers, cultivating customers to become new buyers, recovering lost customers, tracking sales results, etc., shortening the time of the sales cycle, or even combining personalization methods, the function of automation is more powerful.
3. Legally Compliant Mail
In the era of the prevalence of the Internet, privacy issues have also emerged. Users pay attention to the privacy and security of personal data, and corresponding laws have been formulated at the same time to protect the rights and interests of citizens. Therefore, you must respect customer privacy, protect customer information, and provide the function to unsubscribe when visitors register and subscribe and send emails. In this way, customers can increase their trust in the brand!
4. Emails are more interactive
Email is no longer official! Improve the direction of eDM email design templates, interact with recipients more, and combine CTA to attract recipients to click! Such as GIF images, quizzes, polls or questionnaires, etc., and even add game elements to let them participate as much as possible. interactive!
MarketHK eDM Marketing: Keep Up With The Times!
There are various marketing methods, such as Google Ads, social media, WeChat and other new tools that dominate our terminals, eDM email marketing still occupies the "first brother" status among many tools. Marketing marketing keeps pace with the times, MarketHK's eDM tool also keeps pace with the times and provides the above functions! Make your Marketing more effective!